The Rolling Stones Rock BST Hyde Park 2022
The Rolling Stones bring Rock 'n' Roll to BST Hyde Park 2022
 ★★★★★
The Rolling Stones played their second headline show at this year's American Express presents BST Hyde Park on Sunday, with a setlist including 19 of their classic tracks. In a sold-out show like no other, the rock and roll legends put on a spectacular performance. Fans young and old were in awe of The Stones during this special 2 hours and 15-minute set.
The band played at BST Hyde Park as part of their 'Sixty' tour – their first tour, and second London show, since the passing of Stones drummer Charlie Watts in August 2021. The Stones performed to a welcoming Hyde Park crowd of over 65,000 people. With plenty of Rolling Stones fans in the audience, their hits like Start Me Up, Honky Tonk Woman and Paint It Black were received with rapturous applause.
Mick Jagger paid tribute to Charlie Watts at the beginning of their set, after a montage of Watts appeared on the Great Oak Stage's screens. The energetic 78-year-old frontman said "Watching those videos of Charlie before we came on… you know we played with him for 60 years… we really really miss him. So we're dedicating this show to Charlie."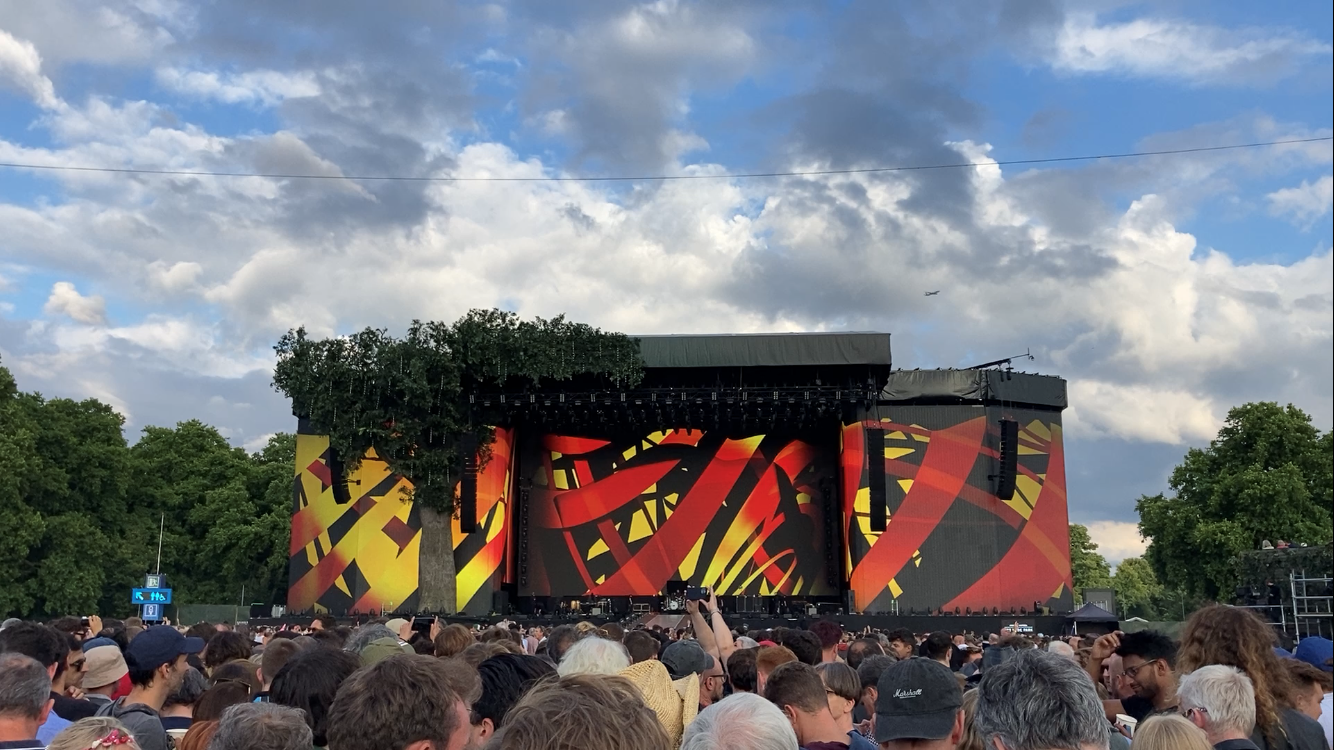 Even in their 60th year of performing, the group were better than ever, led by the charismatic Mick Jagger and Guitar-playing legends – Ronnie Wood & Keith Richards. The trio's energy is incredible and infectious, particularly Jagger's stamina and vocals have to be commended. Jagger's showmanship stood out, changing his jacket after nearly every song was entertaining in itself. In a special moment, it was great to see Keith Richards lead the vocals for You Got The Silver. Richards and Wood effortlessly amazed fans with beloved guitar tracks played live.
The atmosphere was unlike any other show, helped by the thousands of Stones fans and the impressive production scale. The performance had theatricality, electric energy, and pure rock'n'roll magic. The graphics on the colossal Great Oak Stage Screens were fitting with each iconic track, and on-site filming allowed audiences further back to get a good view of the icons in action. The visuals, special FX and lighting design complemented and amplified The Stones' set to perfection.
The band performed a different setlist to their headline performance last weekend. For this performance, they added in beloved classics like Angie and You Got Me Rocking. A highlight was the band performing a special version of Bob Dylan's Like A Rolling Stone. The Rolling Stones' finale topped off an electric evening, with two much-loved tunes: Sympathy For The Devil and (I Can't Get No) Satisfaction. 
The Stones will continue to tour around Europe following their BST Hyde Park performances, as part of their 60th anniversary.
Sam Fender was on the Great Oak Stage just before The Rolling Stones for an hour set. The 28-year-old singer-songwriter impressed the crowd with a selection of unique rock tracks from his album Seventeen Going Under. His hit song of the same name brought Fender's set to an end. Other tracks like Spit of You and Getting Started warmed the audience up perfectly for The Stones' highly-anticipated set.
Brixton band The Dinner Party opened the Great Oak Stage, followed by Australian singer-songwriter Courtney Barnett performing a host of hits. Courtney Barnett said "It's such an honour to be here opening for the Rolling Stones – thanks so much for having us." Various acts also performed on the Hard Rock Rising Rainbow Stage. The Flints and rock and soul musician, Christone Kingfish Ingram, both took to the smaller stage in the afternoon.
It was certainly a fantastic way to end a sensational weekend at American Express presents BST Hyde Park. Adele headlined two shows on Friday and Saturday, both sold out and met with universal acclaim.
Tickets are still available for BST Hyde Park's final weekend events. Pearl Jam (8th & 9th July) and Duran Duran (11th July). Book Now!
About American Express Presents BST Hyde Park 2022:
American Express Presents BST Hyde Park 2022 celebrates its 7th year of putting world-famous acts on the Great Oak Stage. The line-up for this year includes Elton John (24th June), The Rolling Stones (25th June and 3rd July), The Eagles (26th June), Adele (1st and 2nd July), Pearl Jam (8th and 9th July) and Duran Duran (10th July).
Set in London's beautiful Royal Park, the event first kicked off in 2013 with The Rolling Stones, as well as Bon Jovi and Lionel Richie. Celine Dion, Barbra Streisand, Florence + The Machine, Robbie Williams, Take That, Kylie Minogue and The Who have all featured in BST's lineups over the years.
BST Hyde Park has a midweek programme too, called OPEN HOUSE. It's completely free to enter so why not enjoy the outdoor cinema, street food markets, children's theatre, fitness classes, summer sports screenings, live music and much more. Visit www.bst-hydepark.com/events/open-house for more info.