Rosen Shingle Creek Orlando Review
Rosen Shingle Creek Orlando Review
 ★★★★★
The Rosen Shingle Creek. Tranquillity, relaxation & luxury at its best.
Located in the heart of Orlando, Florida on Universal Boulevard, this resort stretches over 255 acres. Upon arrival, you'll be taken aback by the sheer enormity of the Shingle Creek and its stunning architecture. The Shingle Creek boasts 1,501 guest rooms & suites, along with a colossal golf course, and convention centre. The unique resort has been awarded the AAA Four Diamond designation annually for its premium accommodation and amenities.
The Rosen Shingle Creek Orlando is not short of outstanding facilities. The resort allows for you to enjoy the perfect balance of relaxation and recreation. From the four outdoor pools to more than 10 dining options, a luxury Spa and a fitness centre – the Shingle Creek has everything you need. Additionally, there are two tennis courts, a basketball court, a sand volleyball court and, of course, the stunning 18 Hole Golf Course.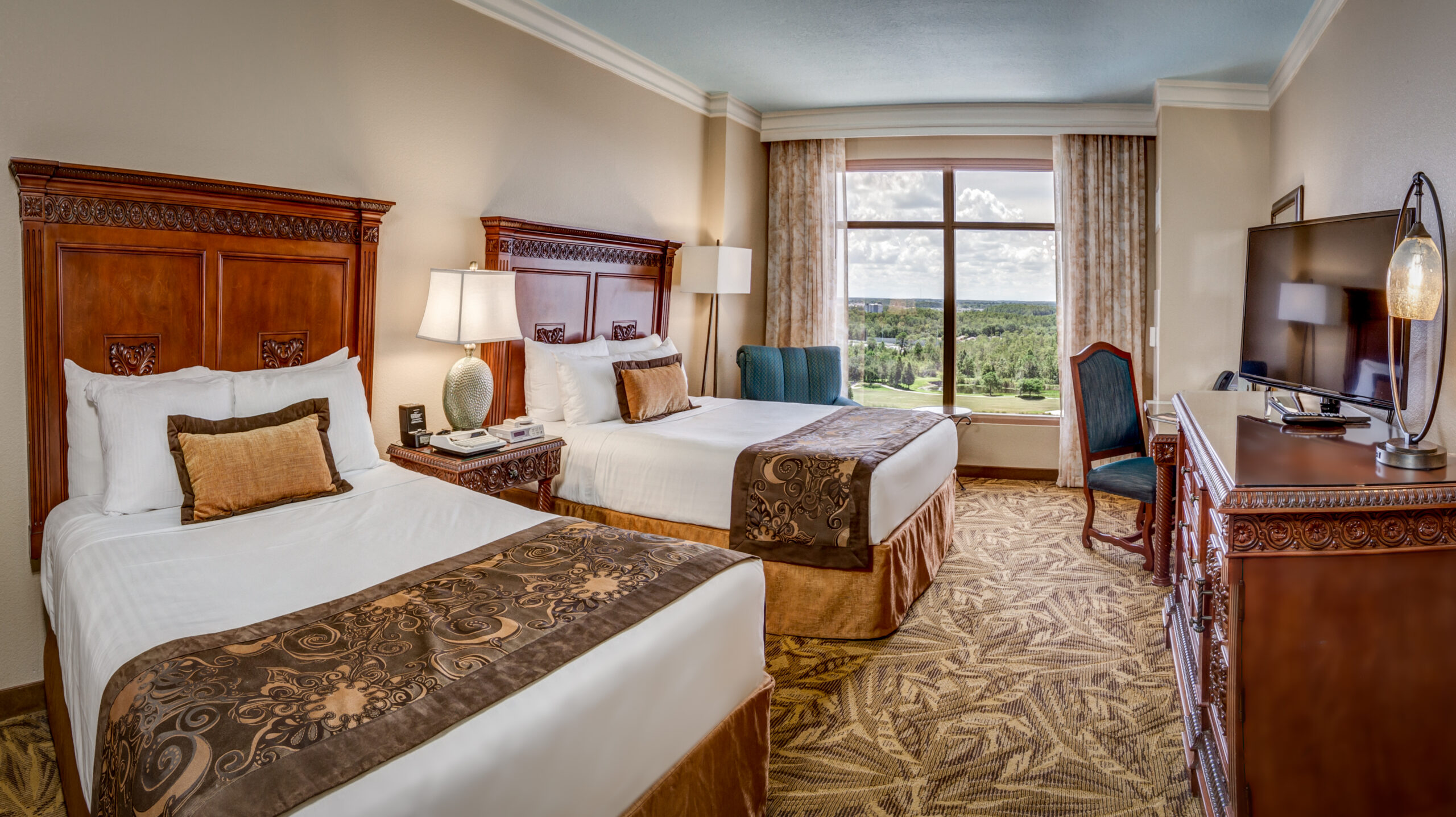 Having the option to choose from four different pools means that you can always find a quiet space to swim and take in the Florida sunshine. Complimentary towels are provided at the pools for extra convenience, saving you the trouble of bringing your own. Ice cold water is also available to keep you hydrated after a swim. As well as four pools, don't forget about the two hot tubs that give you a chance to get the rest you need. 
One of the hotel's fine-dining restaurants is the Cala Bella. In this AAA Four-Diamond restaurant, you can enjoy delicious Italian cuisine while sitting back and listening to the soothing sound of the piano. 
The plentiful breakfast buffet is available at an extra cost – and definitely worth it if you've got a long day ahead of you. The buffet at Cafe Osceola includes Cereals, Fruit and Berries, Pastries, Smoked Salmon, Eggs, and more Breakfast Meats.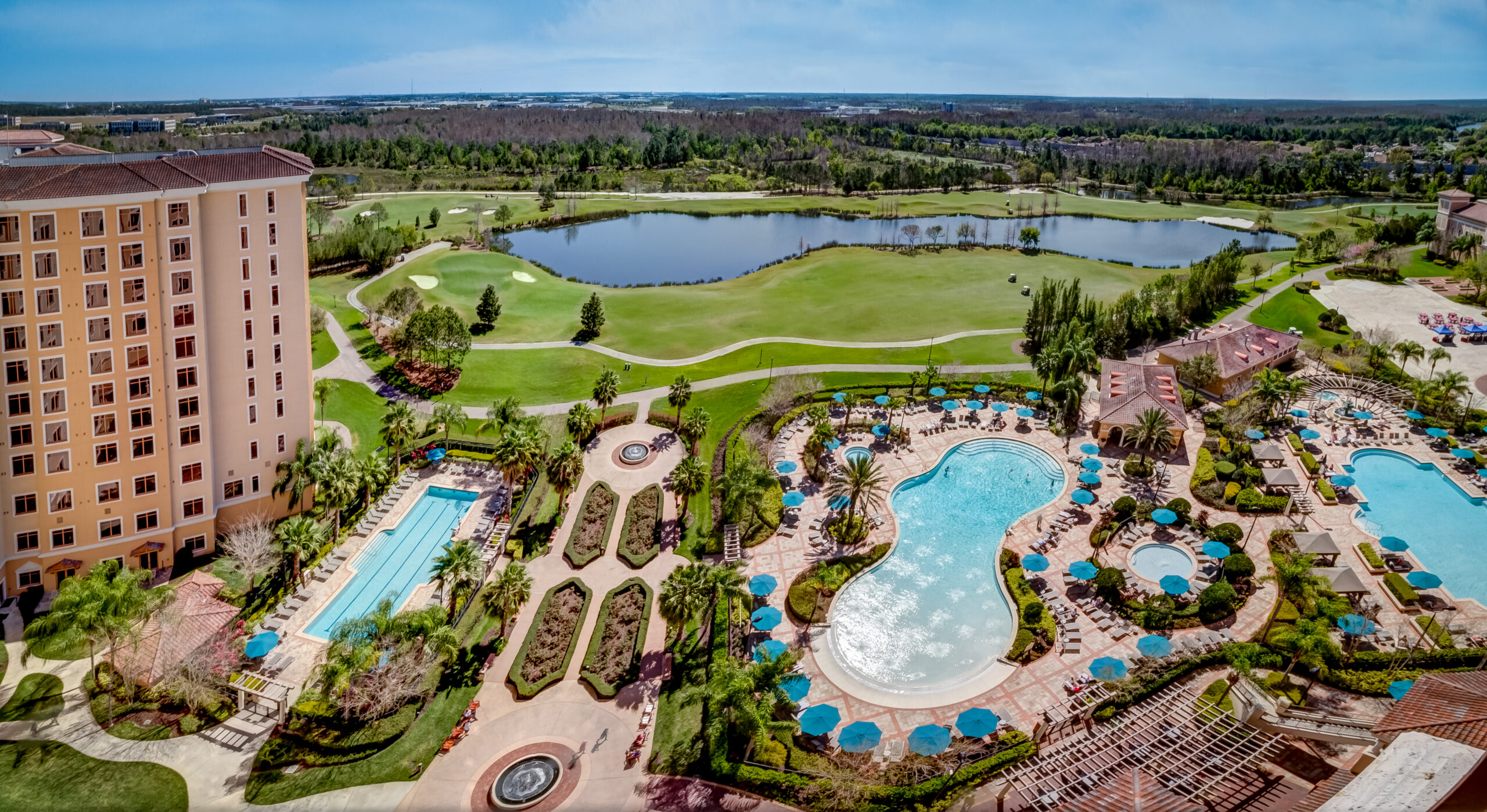 The Rosen Shingle Creek shines brightly thanks to its incredible staff and guest services. The friendly staff instantly make you feel comfortable and at home. The Resort is also very welcoming towards guests with disabilities, in particular, by providing complimentary valet parking, ramps, elevators and braille signs on each floor. There are also 75 ADA-accessible guest rooms, each with rails around the bathrooms for extra assistance.
As a Universal Orlando Hotel Partner, all guests can enjoy complimentary transport to and from the Universal Orlando Resort in addition to SeaWorld Orlando and Aquatica. The hotel is within a short distance of all the major theme parks including the Walt Disney World Resort. 
To suit your needs, additional services are available like the 24-hour guest laundry room, babysitting services, transport services and more. Complimentary Wi-Fi is available in all rooms as well as in public areas around the hotel. During your stay, you can choose from either self-parking or valet parking. Another bonus is that unlike many resorts in Orlando, the Rosen Shingle Creek does not charge a Resort fee. 
The only downside to this resort is that it is largely business-orientated due to its giant convention centre areas. This can mean that when a convention is on at the hotel, it can be very busy – particularly in the pool area.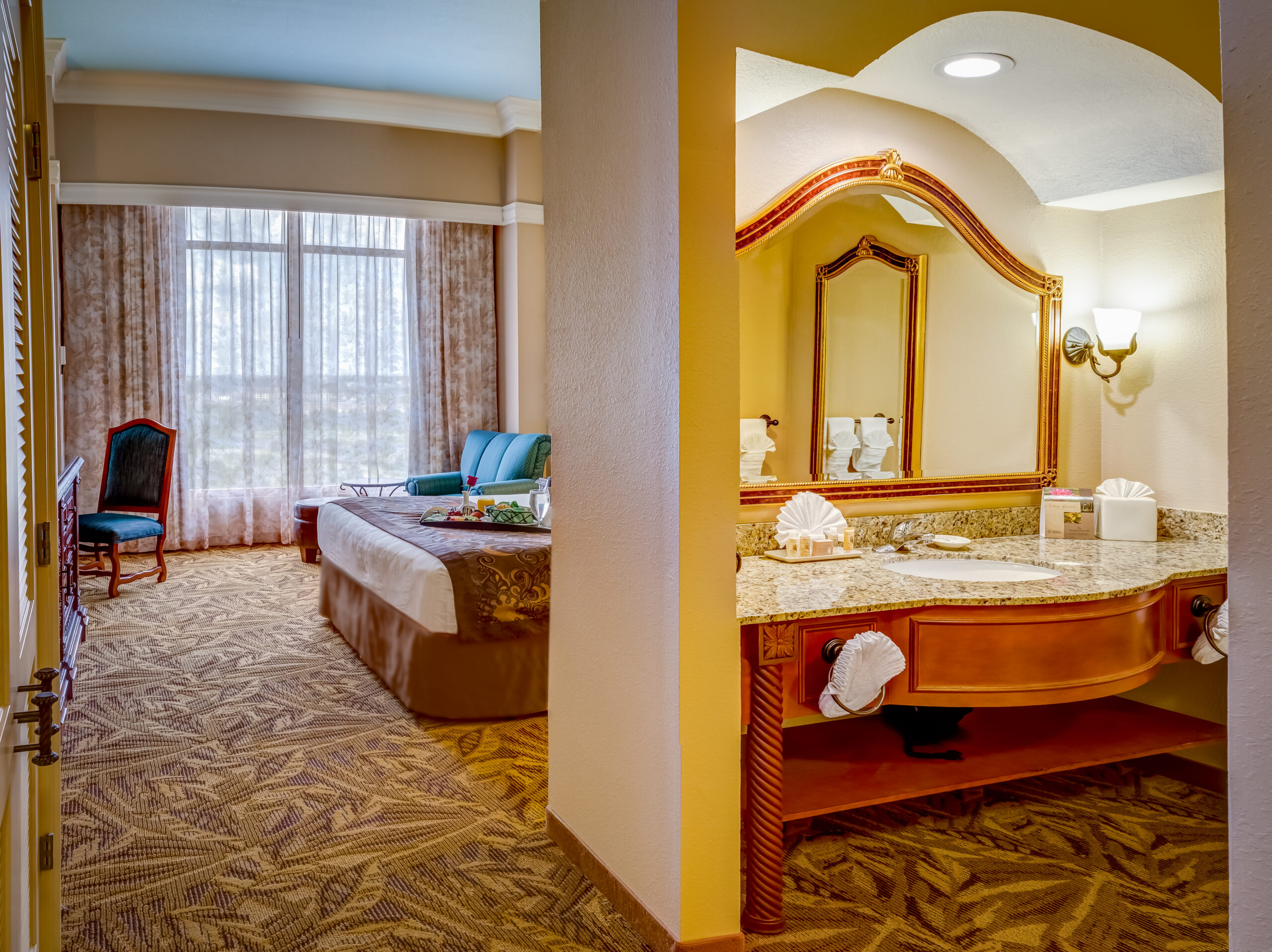 The accommodation options are luxurious, with 411 Kings, 950 Double Queens and 191 suites including Petite King Suites, Executive Suites, Grande Suites, Hospitality Suites and 3 Presidential Suites. 
The Executive Suites, in particular, give you a sense of luxury with the open-plan design and spacious living areas. The mattresses and bedding are among the best I've ever slept on, providing extra comfort to ensure guests benefit from a relaxing sleep. Each bathroom has ample high-quality toiletries along with a sufficient number of fluffy towels replaced each day. Every room has stunning views of Orlando, whether it's overlooking the magnificent entrance or golf course – the views are spectacular. 
The Rosen Shingle Creek is perfection – a brilliant location, out-of-this-world amenities and much more. Whether you're staying here for business or as a family, the Rosen Shingle Creek will not disappoint.