Bad Brownie: Brownies Delivered To Your Door
Bad Brownie: Brownies Delivered To Your Door Review
Bad Brownie allows you to indulge in truly fantastic treats, and we couldn't resist. Bad Brownie has a scrumptious range of brownies and desserts that are available to be delivered to your doorstep nationwide – within the next day!
We tried a handful of what Bad Brownie has to offer, and they certainly didn't disappoint. Your order is nicely packaged and delivered via either DPD or Royal Mail (for Brownie Bars). Your treats arrive in a well-designed, branded box that keeps your goodies secure and in place, on their journey to you. If you order before 2PM, you're eligible for Next Day Delivery – so that if your order is urgent, they have you covered.
Bad Brownie has an extensive range of Vegan treats too, so that no one has to miss out. From a Vegan Salted Caramel Yule Log to Vegan & Wheat Free Brownie Boxes, they can cater for everyone. 
Christmas Brownie Bites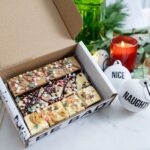 These limited-edition Christmas brownie flavours are a perfect seasonal treat this December. The Christmas Brownie Bites Boxes include Mince Pie, Black Forest, Gingerbread Latte Brownies. These flavours are divine, especially the Gingerbread Latte – which has just the right balance of sweetness and Ginger.
This box is available as a 12 Piece, 16 Piece or 24 Piece Box. The 16 and 24 Piece Boxes include even more flavours! These brownies are shipped in festive red gift boxes. They are perfect for gifting or just treating yourself.
12 bite box (3 flavours) serves 3-4 people.

16 bite box (4 flavours) serves 4-6 people.

24 bite box (6 flavours) serves 6-8 people.
Favourites Brownie Bites Box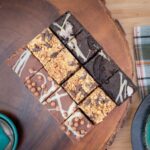 This next box puts Bad Brownie's most popular Brownies into one box. Bad Brownie has taken the nation's favourite biscuits & chocolates and transformed them in a deliciously unique way.
12 bite box contains Maltesers, Biscoff, and Oreo.

16 bite box contains Maltesers, Biscoff, Oreo, and Jaffa Cake.

24 bite box contains Maltesers, Biscoff, Oreo, Jaffa Cake, Triple Chocolate, and Hazelnut.
These brownies are beyond tasty, you can taste each sweet treat throughout the brownie, from base to garnish. They don't just put a topping on, flavour can be found in every bite you take. The Biscoff Brownie is popular, and there is a reason for it – it's taken the Biscoff biscuit and produced a smooth and dreamy treat, that everyone will love.
Salted Caramel Yule Log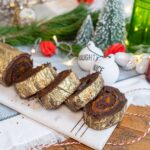 No Christmas is complete without a Yule Log, and Bad Brownie's version is not one to be missed. They use their signature fudgy brownie base, hand-rolled with sweet and firm caramel sauce. The sauce doesn't all ooze out upon cutting, which is a convenient element. The dessert has then been garnished with silky smooth and rich dark chocolate, which adds a nice crunch before you get to the soft centre. To make it even more Christmassy, the log is dusted in shimmering gold to give extra sparkle to the dinner table.
This yule log is the ultimate centrepiece, which may be a large expense – but it's totally worth it. This heavenly dessert serves 10 to 15 people, depending on the portion size. 
It's worth noting that their Brownies have a shelf-life of around 10 to 14 days in a cool cupboard, and up to 3 weeks if refrigerated. They last for 3 months if frozen, but I recommend you eat yours ASAP, before anyone else gets their hands on them!
If you're looking for someone to handle desserts this Christmas – leave it to Bad Brownie. You can pre-order Christmas desserts right now! There are also plenty of Bundles available for you to gift to loved ones or prepare a feast of your own. 
To Order and view the full range, CLICK HERE, or visit badbrownie.co.uk.
If you have any queries, you can always get in touch with the friendly team, on the Contact page of their website.