Paul Ritter: Friday Night Dinner & Chernobyl Star Dies Aged 54
Paul Ritter: Friday Night Dinner & Chernobyl Star Dies Aged 54
The Friday Night Dinner star Paul Ritter has died of a brain tumour at the age of 54. The actor was best known for playing Martin Goodman in the hit Channel 4 comedy series.
Ritter also starred in Harry Potter And The Half-Blood Prince, the acclaimed TV series Chernobyl and the James Bond film Quantum Of Solace. He died at home with his family by his side.
His agent said: "It is with great sadness we can confirm that Paul Ritter passed away last night….peacefully at home with his wife Polly and sons Frank and Noah by his side. "He was 54 and had been suffering from a brain tumour."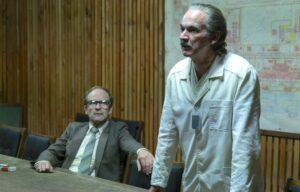 His widely-acclaimed role as Anatoly Dyatlov, the deputy chief engineer at the nuclear power plant in Chernobyl, led to the five-part miniseries becoming the best-rated show ever on IMDb. The show is considered "the greatest drama of all time".
In addition to film & TV, he starred in numerous theatre productions, scoring nominated Olivier and Tony Award nominations.
Paul Ritter is due to appear in a 10th Anniversary Episode of Friday Night Dinner later this year.