Dune Heading to Venice Film Festival
Dune Heading to Venice Film Festival
Denis Villeneuve's upcoming blockbuster, Dune, is heading to the Venice Film Festival. The Warner Bros. remake, and book adaptation, is set to release in cinemas on September 15th.
Dune will be part of Venice's in-person festival, despite Coronavirus concerns. Villeneuve last attended the festival with his Oscar-winning film Arrival in 2016. The anticipation for Dune, is certainly high, ever since the trailer released last year. The trailer promises impressive action sequences and stunning visuals, starring an impressive ensemble.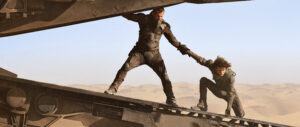 Dune is Frank Herbert's 1965 novel which follows Paul Atreides (Chalamet), a brilliant and gifted young man born into a great destiny beyond his understanding. He must travel to the most dangerous planet in the universe to ensure the future of his family and his people. As malevolent forces explode into conflict over the planet's exclusive supply of the most precious resource in existence – a commodity capable of unlocking humanity's greatest potential – only those who can conquer their fear will survive.
The all-star cast includes Timothée Chalamet, Rebecca Ferguson, Oscar Isaac, Josh Brolin, Zendaya, Sharon Duncan-Brewster, Jason Momoa & Javier Bardem. Watch the trailer below…
Before Venice's festival is the Cannes Film Festival, in July, where Wes Anderson's The French Dispatch will premiere. Cannes was cancelled last year, whereas Venice still went ahead last September, with limited attendance. 
Source: Deadline