Cannes Film Festival Spent $1 Million on COVID Testing
Cannes Film Festival Spent $1 Million on COVID Testing
The 74th Annual Cannes Film Festival delivered two weeks of movies in the middle of a pandemic. Even major stars such as Matt Damon, Tilda Swinton and Timothée Chalamet were in attendance, despite rising cases.
Variety reported that the festival splashed out more than $1 million to provide free COVID testing to 28,000 attendees. Certain restrictions could be bypassed with proof of vaccination, but there were no guarantees that people wouldn't contract COVID as the Delta variant continues to spread globally.
French actor Léa Seydoux, who had three films at the festival, cancelled her trip to Cannes after testing positive for COVID-19. This caused concerns about the sharp rise in cases, and if the festival could be disrupted.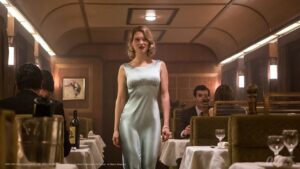 Léa Seydoux in Spectre. Courtesy of MGM
There were also rumours of French President Emanuel Macron cancelling the event, in the run-up to Cannes, but restrictions on events weren't brought in till post-Cannes..
There have been no reports of major outbreaks linking back to Cannes. Now, all eyes are on Venice Film Festival this September, as they also hold an in-person event despite Coronavirus cases continuing to rise. Films premiering on the Venice Lido include Dune, Halloween Kills and Spencer.
Toronto Film Festival, also in September, has opted for both an in-person and virtual event. Films premiering at Toronto will include Last Night In Soho and The Eyes Of Tammy Faye.