Spider-Man: No Way Home Trailer Released
Spider-Man: No Way Home Trailer Released
Doc Ock, Green Goblin & Electro are back in the jam-packed trailer
Late on Monday, Sony Pictures dropped the first trailer for Spider-Man: No Way Home, releasing this December. The release of the trailer comes after the trailer leaked on Social Media on Sunday. Disney and Sony were quick to catch on and takedown these videos with a copyright claim. But now we have an official trailer and it's jam-packed with surprises and reveals for the film's story.
The third Tom Holland-led Spider-Man film will see Peter Parker battling villains from the multi-verse. Spider-Man 2 actor, Alfred Molina, reprises the role of Doc Ock – seen at the end of the trailer. Jamie Foxx has also previously been confirmed to reprise his role as Electro, first seen in The Amazing Spider-Man 2 (2014). While it's not clear, fans seem to hear the roar of The Lizard from The Amazing Spider-Man. There are also hopes that Charlie Cox's Daredevil will make an appearance – fans think he is the character who slams paperwork in front of Parker in the trailer.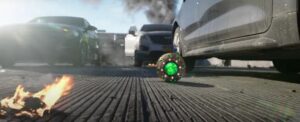 The trailer seems to confirm another classic villain is joining the fight against Spider-Man. The trailer shows a pumpkin bomb, typically used by Green Goblin. We also hear the laugh of Willem Defoe's Green Goblin, from the original Spider-Man Film. Therefore, we can assume that Dane DeHaan's version of the villain from The Amazing Spider-Man 2, won't appear in the film.
These villains return thanks to the opening of the multi-verse, first explored in Disney+ shows Wandavision and Loki. The film will introduce the multi-verse further with Benedict Cumberbatch as Doctor Strange, also playing a role in the film. Parker, after his identity had been revealed to the world, seeks help from Strange to try and get things back to how they were. However, when Strange casts a spell something goes wrong, breaking open the multi-verse. 
What just happened? Watch the official teaser trailer for #SpiderManNoWayHome, exclusively in movie theaters December 17. pic.twitter.com/gitbLCniOd

— Spider-Man: No Way Home (@SpiderManMovie) August 24, 2021
The trailer is racking up millions of views in just a few hours – it could be a record-breaker for sure. Anticipation for No Way Home has been incredibly high due to the mass speculation that previous Spider-Man actors Tobey Maguire and Andrew Garfield will play a role in the film. Andrew Garfield denied these claims in a recent interview, but fans are sure they will appear in the film. Willem Defoe recently gave a 'no comment' answer in an interview, despite his appearance in the film now confirmed.  
Spider-Man: No Way Home will release in Cinemas December 17.