Promising Young Woman Film Review
Promising Young Woman Film Review
'A Thrilling Genre-Bending Masterpiece' 
★★★★
★
Oscar Nominee, Carey Mulligan, leads this original revenge thriller, directed by Emerald Fennell. This bold debut mixes comedy, romance, drama, thriller and a pinch of horror to form a provocative and timely film. The mix of genres, at first, sounds like a recipe for disaster but it all works remarkably well. Promising Young Woman is a triumph.
Cassie (Carey Mulligan) was a promising young woman until a mysterious event abruptly derailed her future. But nothing in Cassie's life is what it appears to be: she's wickedly smart, cunning, and she's living a secret double life by night. Now, an unexpected encounter is about to give Cassie a chance to right the wrongs of the past in this thrilling and entertaining story.
Emerald Fennell's directorial debut boasts creativity, originality and masterful filmmaking. Fennell also wrote the slick screenplay for this provocative piece. Promising Young Woman feels like it's created by a veteran filmmaker – a credit to Fennell's talent. Fennell's fresh vision for this film is clear and exquisitely executed. Her previous credits include playing Camilla in 'The Crown' and Patsy in 'Call The Midwife'. Fennell also took over as Showrunner for Season 2 of Killing Eve.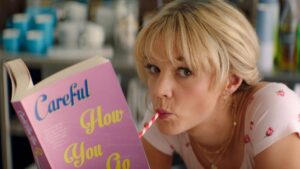 Promising Young Woman's soundtrack is fitting and enhances the tone of this feature, filled with pop tracks. The film looks so inviting and innocent at first, but we soon see the sensitive themes this feature deals with, as an interesting contrast. The whole aesthetic of this film is stunningly unique from the neons to the candy & bubblegum colour palette. All of which is enhanced further by the costume, hair & make-up design. This thriller adopts a clever structure in the form of a step-by-step sophisticated revenge plan, which is compelling at every step.
Cassie is a complex character, but Mulligan plays her character with ease. It is a thrilling demonstration of skill from Mulligan. She expresses wit, anger and emotion but can also transform into an intimidating presence. Bo Burnham plays Cassie's love interest and proves his range in this role, expanding on his impressive skillset, following his critically-acclaimed film, Eighth Grade. Burnham and Mulligan's chemistry shines in all their scenes together, it's disappointing he misses out on Supporting Award Nominations.
Throughout the film, it's easy to notice the importance of casting, it is perfect. Actors known for portraying light-hearted and comedic characters are cleverly cast to deceive and surprise the audience (without giving too much away).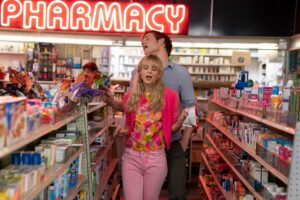 The excellent writing creates compelling scenes, brought to life by Mulligan's performance. Fennell should at least be awarded for this outstanding Screenplay. The writing is so powerful, fresh and gripping. The conclusion lands well and proves how expertly crafted this original story is.
This feature subverts expectations which makes it highly entertaining to watch as you instantly become invested with the narrative. It is a stunning achievement in acting and filmmaking.
Promising Young Woman is packed with emotion, dark comedy, tension and boldness. This is an outstanding debut from Emerald Fennell. She delivers compelling and thought-provoking moments from the outset. Mulligan is in the spotlight by portraying the complexity of her character expertly. This daring feature cannot be missed, as one of this year's best and most memorable films. 
★★★★★
5/5 STARS
Promising Young Woman is streaming on Sky Cinema & NOW in the UK from the 16th April.
Carey Mulligan (The Dig, An Education) is supported by a talented ensemble including Bo Burnham (Eighth Grade), Alison Brie (Sleeping With Other People), Clancy Brown (The Shawshank Redemption), Jennifer Coolidge (Legally Blonde), Laverne Cox ("Orange Is the New Black"), Connie Britton ("Dirty John"), Alfred Molina (Spider-Man 2), Adam Brody (Shazam!), Max Greenfield ("New Girl"), Christopher Mintz-Plasse (Superbad), Chris Lowell (The Help), Sam Richardson ("Veep"), and Molly Shannon ("Divorce").