The World's First Rollable TV: LG SIGNATURE OLED R
The World's First Rollable TV: LG SIGNATURE OLED R
It's here. The world's first rollable TV – the LG SIGNATURE OLED R. This was announced all the way back in 2018, and we've been excited about its long-awaited release ever since. LG Electronics recently commenced sales for this sleek and ground-breaking step in consumer technology. 
The LG SIGNATURE OLED R boasts a liquid-smooth 65-inch flexible OLED display that delivers exquisite picture quality. The display consists of a single sheet of glass, featuring self-lit pixels and independent dimming control. All of which provides an immersive, one-of-a-kind viewing experience.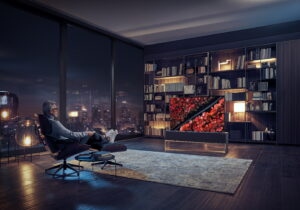 The highlight, of course, is that the TV has the ability to disappear when not in use – thanks to its pioneering rollable screen. This gives more freedom and convenience in your home, in terms of space. The TV rolls out to three different heights, with each having a unique purpose, all with a stylish aesthetic. You can immerse yourself in Full View mode, subtly set the mood in Line View, or why not make the most of your space in Zero View.
LG has implemented a new optimised Dolby Atmos sound system with the innovative AI Sound feature. This enhances the speakers' audio performance, with the ability to fill a larger space. The Dolby Atmos sound gives crisp, life-like audio that truly immerses you into the screen. When the screen rolls away, the OLED R can be used as an impressive sound system. Enjoy listening to your favourite tunes in stunning Dolby Atmos sound quality, with powerful 100W speakers.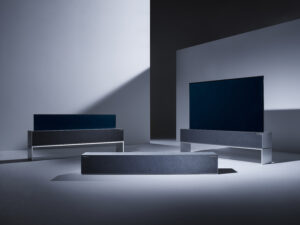 The modern design perfectly compliments every room. From the brushed aluminium casing to the stylish wool speaker cover – this is beyond a premium product. The OLED R also has the world's first Eyesafe-certified TV panels that meet the low blue light emission requirement of Eyesafe.
My Thoughts
The long-awaited TV has an expensive price tag, perhaps too steep, but it's expected given its exclusivity and world-first design. Also, as a brand-new product, a lot of things are still in the dark. This rollable TV is a sophisticated mechanical product with a lot of intricate moving components. Could they wear out over time? What is the life expectancy? These are questions to consider, especially when the OLED R is priced at £99,000. However, in my experience, LG is a brand that creates high-quality tech built to last, from their TVs to their refrigerators, to their headphones. LG are innovators and a leader in consumer tech, I imagine that they will continue to develop the OLED R to be even more advanced and hopefully more affordable.
LG's SIGNATURE OLED R is simply a work of art fit for a luxurious lifestyle, with a TV that appears when you need it and disappears when you don't. 
The highly exclusive LG SIGNATURE OLED R is available to order for £99,999. You can order HERE, direct from LG. You can also virtually experience the mind-blowing innovations behind this one-of-a-kind TV on LG's site.
Customers can have their choice of four exquisite shades of covering: Signature Black, Moon Gray, Topaz Blue or Toffee Brown. There is also the option to personalise the TV with the engraving of a name or message on the aluminium base.