Hocus Pocus 2 Confirmed with Original Cast: Sarah Jessica Parker, Bette Midler and Kathy Najimy
Hocus Pocus 2 Confirmed with Original Cast: Bette Midler, Sarah Jessica Parker and Kathy Najimy – Coming to Disney+ 2022
After 28 years, the cult-classic 1993 Disney Halloween film, Hocus Pocus, is officially getting a sequel. Hocus Pocus 2 will see Bette Midler, Sarah Jessica Parker and Kathy Najimy reprise their roles as the popular witches: the Sanderson Sisters.
It was also confirmed that Hocus Pocus 2 will be released on Disney+ in Fall 2022. The sequel is reported to follow three young women who accidentally bring the Sandersons back, and have to figure out how to stop them from wreaking fresh havoc on the world.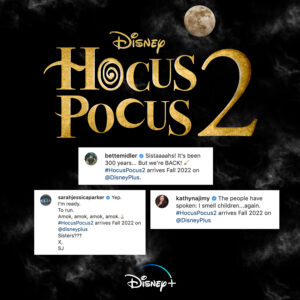 The announcement was made via each cast member's social media, on National Streaming Day.
While the original film was met with a mixed response from critics upon its release, Hocus Pocus has gained a cult following. The fan-favourite film saw three witches resurrect after 300 years to take revenge and begin a reign of terror after Max, a young boy who moves to Salem with his family, lights a cursed Candle of Black Flame. 
A sequel has been in the works for a while, but it was never clear if the original stars would be returning. Now, however, the original stars have signed on, with filming beginning this Autumn. 
Hocus Pocus 2 will stream exclusively on Disney+ in Fall 2022.