Italy Wins Eurovision Song Contest 2021
Italy Wins Eurovision Song Contest 2021
Måneskin, from Italy, has won the Eurovision Song Contest 2021. The Rock Band shook Eurovision on a night that saw the public vote dominate and crown the winners.
Their song "Zitti e buoni" was already popular before the competition, getting millions of streams before the Grand Final.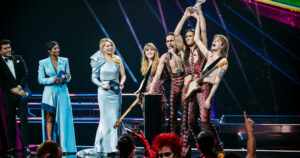 Måneskin was more popular with the public than the Jury members, they won the contest with a total of 529 points. France came second while Switzerland, which was popular with national juries, finished third. This is Italy's third Eurovision victory and will mean Italy hosts next year's competition.
The UK's entry "Embers" by James Newman finished a dismal last. Zero points for a song that arguably didn't deserve that position. This outlines the UK's awkward relation with Europe. Despite Britain's heritage in popular music, the politics of Brexit, trade disagreements and Vaccine fallouts can all be considered as factors for why the UK received zero points.