Harrison Ford Injured on Indiana Jones 5 Set
Harrison Ford Injured on Indiana Jones 5 Set
Harrison Ford, 78, has sustained an injury to his shoulder during a fight rehearsal for the upcoming instalment of Indiana Jones, releasing next year. Ford reprises his role as the infamous archaeologist, which he first played in the 1981 film Raiders Of The Lost Ark.
The severity of his injury has not been disclosed, but the filming schedule will be adjusted over the coming weeks to work around the injury and avoid delay. Production on the fifth and final Indiana Jones film has been underway in the UK over the past month. Plot details are currently kept secret, but there have been reports of numerous action sequences taking place including motorbike chases and explosions.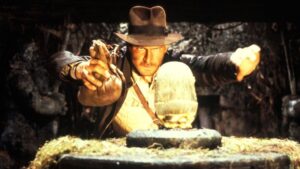 The upcoming Action-Adventure will star Ford back in the title role, alongside Phoebe Waller-Bridge, Mads Mikkelsen, Thomas Kretschmann, Boyd Holbrook, Shaunette Renée Wilson and Toby Jones.
For the first time, Steven Spielberg will not be directing an Indiana Jones film, instead, James Mangold (Logan) will take over directing duties for the fifth film. The script is co-written by Mangold, Jez Butterworth and John-Henry Butterworth. However, Spielberg remains on board as a producer, alongside Kathleen Kennedy. 
Raiders of the Lost Ark recently celebrated its 40th Anniversary with a special 4K edition of the film being released.
Ford isn't a stranger to accidents and injuries. During filming for Star Wars: The Force Awakens, a hydraulic door shut on Ford, breaking his leg. In 2015, he was then involved in a plane crash, where he suffered a broken arm and head injuries after he had to perform an emergency landing on a golf course in LA. He reported engine failure shortly after taking off.
Indiana Jones 5 is set to release in July 2022.