How To Watch Zack Synder's Justice League in the UK
How To Watch Zack Synder's Justice League in the UK
Zack Synder's long-awaited version of Justice League is available to stream in the UK from today (18th March).
What is the Synder Cut? How Can I watch it? How can I watch it for FREE? Why is it being released? Find all the answers below…
How Can I Watch Zack Synder's Justice League in the UK?
As part of the film's worldwide launch, Zack Snyder's Justice League will be available exclusively on Sky Cinema in the UK, Ireland, Germany and Austria. In the US, you can watch the Synder Cut on HBO Max. Find out how to watch for FREE below…
HOW TO WATCH FOR FREE
In the UK, you can watch Zack Snyder's Justice League FOR FREE by getting a free trial of the NOWTV CInema Pass. Simply SIGN UP HERE for a 7-day trial and start streaming. (Don't forget to cancel if you no longer want the service after 7 days)
WHAT IS THE SNYDER CUT?
Zack Snyder shot 100% of his Justice League script and assembled a director's cut. He directed post-production until May 2017 when he stepped down following a family tragedy. The studio wanted a lighter tone with more humour, so they took the opportunity to hire Joss Whedon, who wrote 80 new script pages and conduct several months of reshoots.​
Snyder's Assembly Cut was 5-hours, which he cut to 3 1/2 hours for his director's cut, but Whedon's final product was only 2-hours long and ultimately only used 30-45 minutes of Snyder's original footage. Composer Junkie XL, completed score was also replaced with a new score by Danny Elfman.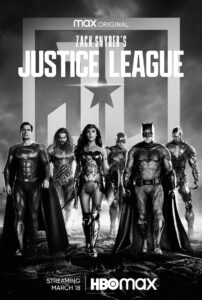 The Snyder Cut is Zack Snyder's original vision for the movie, which, at the time of his departure, was shot and edited with significant post-production completed.
WHY IS THE SNYDER CUT GETTING RELEASED?
After the critical failure of Joss Whedon's theatrical cut of Justice League, the studio denied the existence of the "Snyder Cut."​ Demand for the Snyder Cut persisted for 2 years until the launch of HBO Max finally created a distribution model that could justify the completion of the movie.
Zack Snyder's Justice League received $70 million in additional funding to complete VFX and other post-production on a 4-hour version of the movie, along with additional photography to add 4-5 minutes of footage on top of that.
WHAT IS THE SYNDER CUT ABOUT?
In Zack Snyder's Justice League, determined to ensure Superman's (Henry Cavill) ultimate sacrifice was not in vain, Bruce Wayne (Ben Affleck) aligns forces with Diana Prince (Gal Gadot) with plans to recruit a team of metahumans to protect the world from an approaching threat of catastrophic proportions. The task proves more difficult than Bruce imagined, as each of the recruits must face the demons of their own pasts to transcend that which has held them back, allowing them to come together, finally forming an unprecedented league of heroes. Now united, Batman (Affleck), Wonder Woman (Gadot), Aquaman (Jason Momoa), Cyborg (Ray Fisher) and The Flash (Ezra Miller) may be too late to save the planet from Steppenwolf, DeSaad and Darkseid and their dreadful intentions.
The highly-anticipated Zack Snyder's Justice League will be available on Sky Cinema from 18 March 2021.