Black Widow Scores $215M+ Opening Weekend
Black Widow Scores $215M+ Opening Weekend
Biggest Opening since 2019's Star Wars: The Rise Of Skywalker
Marvel Studios' Black Widow scored a comfortable opening weekend at the Global Box Office and Disney+'s Premier Access launch. It's the biggest box office opening since the opening of Star Wars: The Rise Of Skywalker, in December 2019.
The Walt Disney Company announced that Black Widow has raked in over $215M. The figure includes $80M at the domestic box office, $78M at the international box office and over $60M from Disney+'s Premier Access option.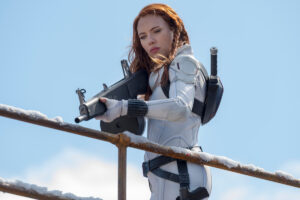 The first Marvel film since 2019 has been met with acclaim from critics and audiences. Black Widow sees Scarlett Johansson reprise her role as Natasha Romanoff as she confronts the darker parts of her past. Pursued by a force that will stop at nothing to bring her down, Natasha must deal with her history as a spy – and the broken relationships she left before she became an Avenger.
The standalone film is set between Captain America: Civil War and Avengers Infinity War – it marks the first film to be officially led by Johannson's character. Alongside Scarlett Johannson is an outstanding supporting cast including Florence Pugh, David Harbour, Rachel Weisz and Ray Winstone.
Black Widow is in Cinemas now & streaming on Disney+ Premier Access.