Birds Of Prey World Premiere Lights Up London
Birds Of Prey: Harley Quinn World Premiere Lights Up London
The World Premiere for the latest DC Comics film, Birds of Prey, was held in London on the 29th January at the BFI IMAX. The star-studded cast was in attendance including Margot Robbie, the star of the film who reprises the role of Harley Quinn for the first time since 2016's Suicide Squad. 
Numerous stars were in attendance, bringing fashion and style to the unique yellow carpet. As well as starring in the film, Margot Robbie came on board as a Producer, having pitched the idea for an all-female spin-off, at the time of Suicide Squad's release.
The new film gives a deeper insight into Quinn, expanding on from what we saw in Suicide Squad. The story picks up after she breaks up with the infamous Joker. Following their break-up, it seems quite a few people have grievances with Harley Quinn.
Robbie is also set to play Quinn again in the sequel/reboot to Suicide Squad, slated for release in August 2021. Titled 'The Suicide Squad', it will be the latest film from Guardians of the Galaxy filmmaker, James Gunn.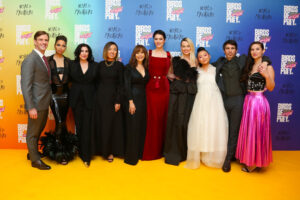 Receiving rave reviews, the film was directed and written by women, with Cathy Yan at the helm. Bird Of Prey sees Harley team up with a new all-female gang, including Huntress (Winstead), Black Canary (Smollett-Bell) and Renee Montoya (Perez) in order to save a young girl from crime lord Black Mask (Ewan McGregor).
Birds Of Prey is a unique R-Rated movie that provides an action-packed, fun-filled movie experience with creativity. From wacky and sophisticated fight sequences to dark humour, this film delivers in multiple ways. 
Birds Of Prey releases in Cinemas on the 7th February 2020.