Third  "A Quiet Place" Film Coming in 2023
Third  "A Quiet Place" Film Coming in 2023
After a big box office opening for A Quiet Place Part II, Paramount has confirmed a third instalment will release on March 31st, 2023.
The third instalment is set to be more of a spin-off, rather than a direct sequel. Jeff Nichols will take over from John Krasinki as Director & Writer, with a story idea by Krasinski. Nichols reportedly handed in the script for the new instalment just days ago.
Nichols won the Cannes Critics Week prize for his 2011 sci-fi movie Take Shelter. Michael Bay, Andrew Form, Brad Fuller and Krasinski will be producing, with Allyson Seeger executive producing.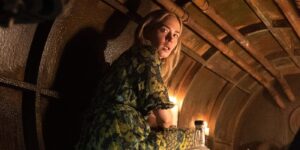 Starring Krasinski, Emily Blunt, Cillian Murphy & Millicent Simonds, A Quiet Place Part II has grossed an impressive $58 million. Box Office takings for this weekend are expected to be upwards of $20 million.
A Quiet Place Part II finds the Abbot family venturing into the post-apocalyptic outside world, where they realize that creatures that hunt by sound are just one of the threats awaiting them. The sequel has received critical acclaim, promising more scares and thrilling than the original instalment.
The first A Quiet Place had a budget of just $17 million, and opened to the highest weekend gross for a horror movie in history, totalling $340 million worldwide. The sequel is set to be one of the first films to earn over $100 million in the pandemic era.
A Quiet Place Part II is currently showing in cinemas nationwide.