REVIEW: Birmingham Youth Theatre's Cinderella
REVIEW: Birmingham Youth Theatre's Cinderella
★★★★★
'SMASH-HIT PANTO, FULL OF LAUGHS'
The award-winning Birmingham Youth Theatre returned with another smash hit pantomime… Cinderella, written by Joe Logan. Directed by Vivienne Morrison and choreographed by Logan, BYT performed a smash-hit panto that lit up the Crescent Theatre over the weekend.
Based on the classic story, Logan expertly modernised the plot with a refreshing approach that worked remarkably well. Logan's writing is sharp, smart and witty – with everything you would expect from a pantomime and more. Breaking from tradition, this panto had numerous emotional and poignant moments that really moved the audience – a testament to how well-written this panto was. The song choices naturally slotted into the story, and the jokes landed perfectly with the young cast bringing the script to life triumphantly.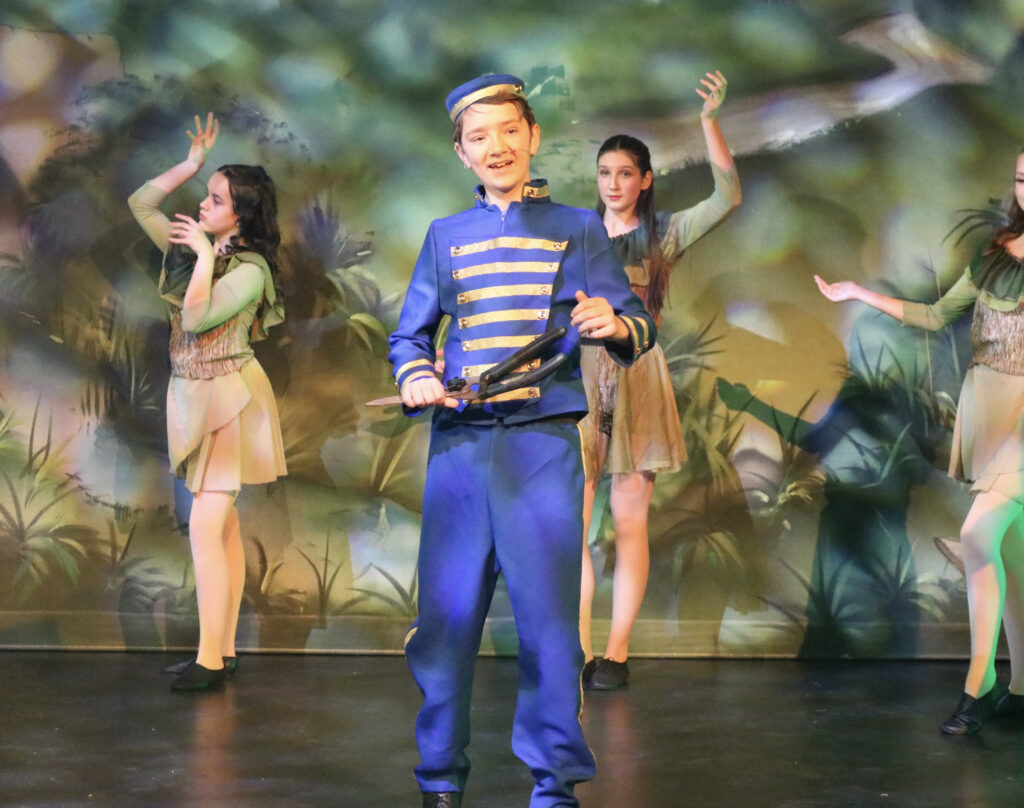 As a choreographer, Joe Logan energises the show's musical numbers with tremendous, high-octane choreography throughout. Morrison's direction allowed for an engaging pace from the outset, supported by impressive lighting and pyrotechnics from Going Dark Theatrical Services, which enhanced the show's production scale. As always, Musical Director Chris Corcoran uses his wealth of experience to guide these talented youngsters to give their very best vocal performance. Corcoran also leads a brilliant 4-piece live band – something not all youth theatre groups have.
Lola Harper was pitch-perfect in the title role of Cinderella. Harper's rendition of Adele's 'Easy On Me' was flawless, despite it being a difficult song to perform – but she made it look effortless. Luke Griffiths, as Prince Charming, gave a confident performance with outstanding vocals in 'Love Wildly'. Griffiths paired well with Harper and their touching duet of 'Perfect' was one of the show's highlights.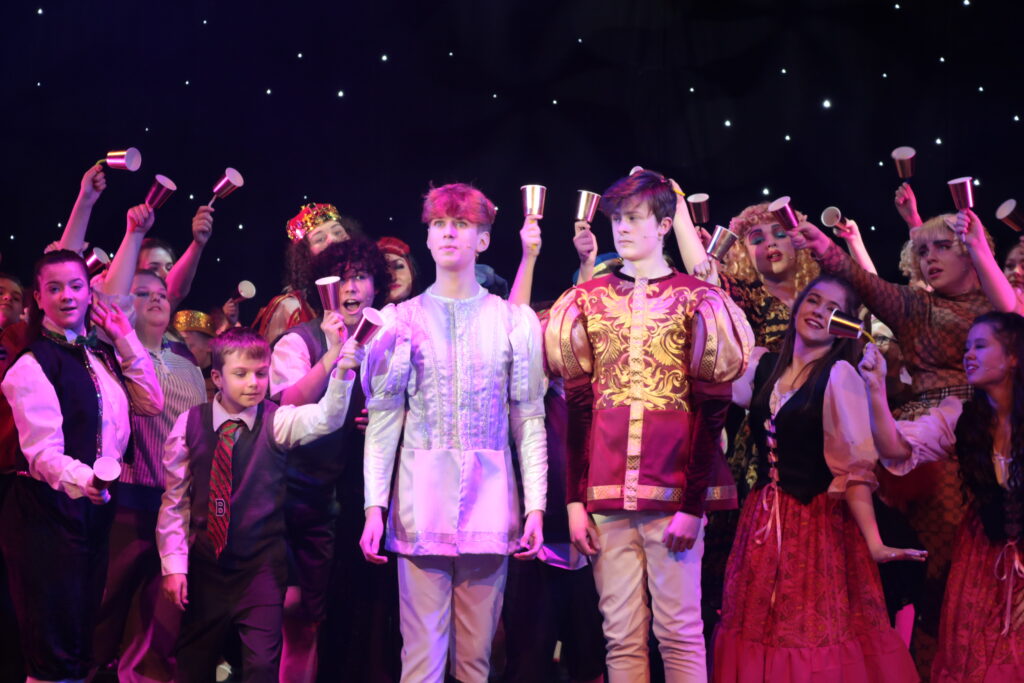 Carter Evans played the Prince's servant, Dandini, and shone with charisma – especially when leading a dazzling opening to Act 2 with 'Dancin' Fool' from Copacabana. Buttons was excellently played by David Morrison who became a driving force in provoking audience participation, as well as smashing his solo number: What Makes You Beautiful by One Direction.
The ugly step-sisters, Stacey (Caedon O'Malley) and Tracey (Rhys Bishop) brought plenty of laughs with their superb chemistry and comic timing. 'Juice' was a brilliant introductory number for the duo, bringing plenty of laughs. Maddison Clarke conjured evil and gave an enchanting performance as The Baroness. Clarke's strong vocals were particularly impressive in the songs 'We Don't Talk About Bruno (Baron)' and 'Confident'. Clarke, O'Malley and Bishop developed a unique dynamic as a trio that was entertaining to watch.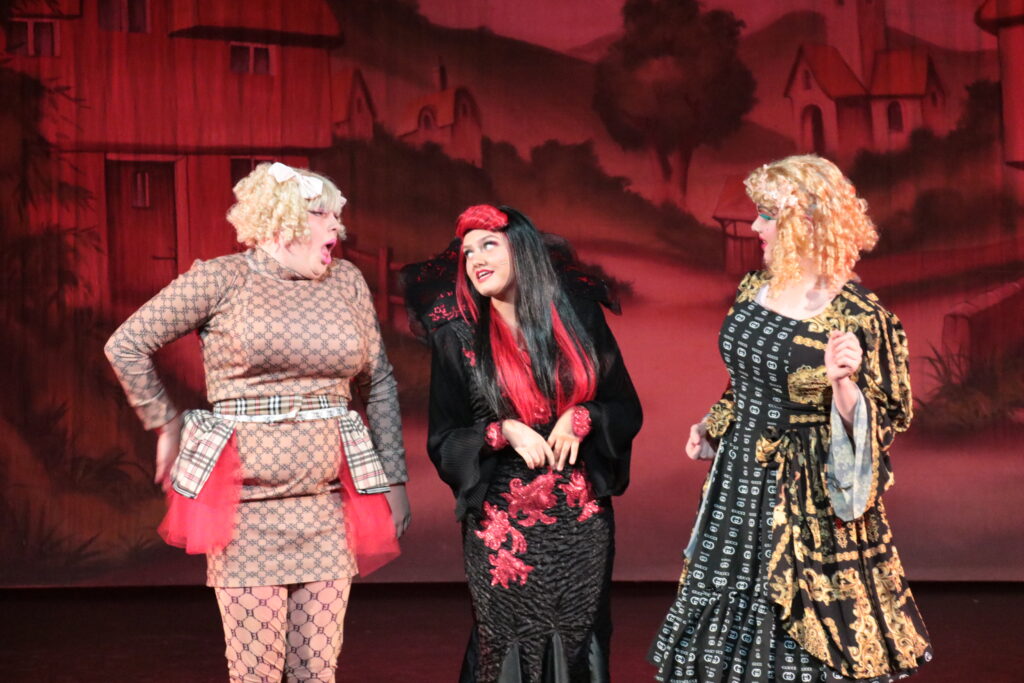 Dylan O'Connor as King Bernard masterfully delivered one of the show's emotional moments along with Evans (Dandini), singing 'Let Him Go' with soothing vocals. Harrison Doherty, Charlie McRoberts and Andrew Morrison as Bish, Bash and Bosh, respectively, also brought plenty of humour to the stage. The trio breaking out into the Backstreet Boys' Everybody was one of the show's most entertaining moments.
Lily-Mae Nicholls played the role of Fairy Non-Bio, a trainee fairy, with splendid vocals during 'You Will Be Found' – the closing number for Act 1. Along with Nicholls, Saran Sambhi as Principal Godmother opened the show brilliantly, comically embodying Beyonce. Charlie Bland (Baron Hardupp) and Lucie Holcroft (Fairy Nuff) also gave great performances, singing a terrific Queen classic – 'Hammer To Fall'.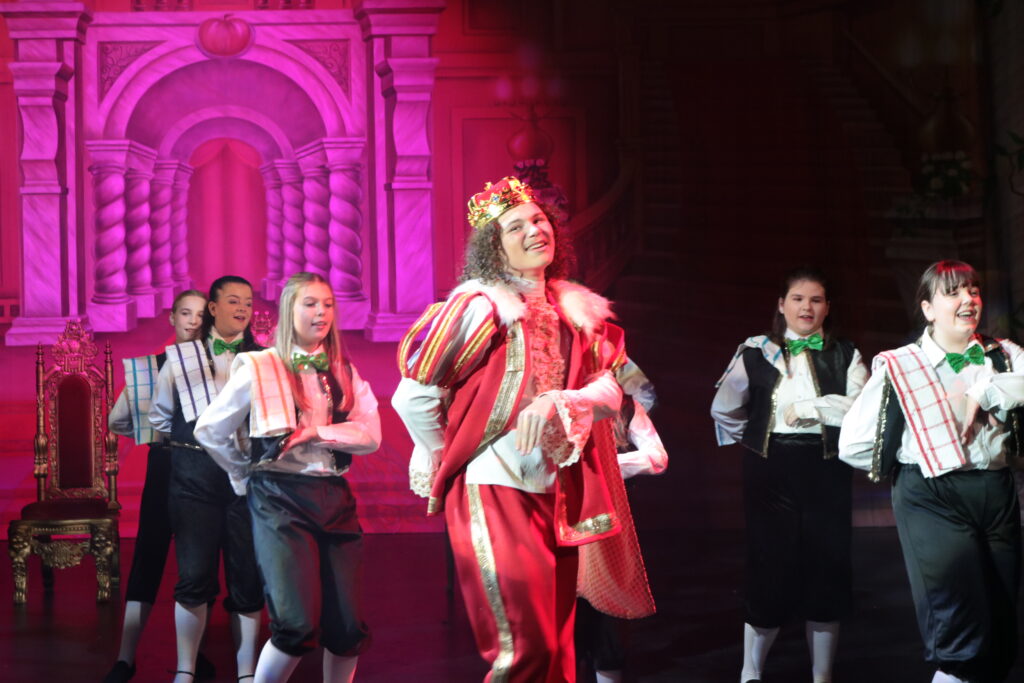 The ensemble and dance team shone in every number, supported by dance captains Ellie Johnstone and Olivia Jefferson. Special mention to the whole ensemble: Marni Carroll (OAP Princess), Josh Mills (Troll), Kitty Smart & Amelia Jennings (Masters of Ceremonies), Abigail Bell & Cat Allsop (White Horse), Niamh Flannigan & Sophie Terry (Moo Moo), Daisy Wright, Edina Bilham-Moore, Emily Green, George Beckett, Kamile Kazlauskaite, Luke Holcroft, Maisie Cotterill, Megan Allsop, Mia Hodges, Niamh Flannigan and Sophia Cupples.
Spectacular work from the whole dance team too including Beatrice Roberts, Bella Hoppner, Hannah Allsop, Olivia Jefferson, Ruby Blount, Tabitha Vlok & Tegan Lynch.
With a talented cast, stunning lighting, set design, choreography and an exemplary script by Joe Logan, BYT delivered a sensational pantomime. Birmingham Youth Theatre should be very proud – congratulations to all cast and crew!
Director: Vivienne Morrison
Writer & Choreographer: Joe Logan
Musical Director/Keyboards: Chris Corcoran
Guitar: Adrian Rose
Bass: Derrick Brown
Drums: Matt Firkins
Lighting Design: Dave Pittam – Going Dark Theatrical Services
Lighting Programming: Jack Tustin – Going Dark Theatrical Services
Sound: Martin Hudson & Dan Clarkson – Dan Clarkson Productions
Aged 9-19? Interested in joining Birmingham Youth Theatre for their next production… Sister Act? Email contact@birminghamyouththeatre.co.uk today!