'I Care A Lot' Film Review
'I Care A Lot' Film Review
'A Deliciously Evil Thriller'
★★★★
Cast: Rosamund Pike, Peter Dinklage, Eiza Gonzalez, Chris Messina & Dianne Wiest
Where To Watch: Amazon Prime Video (UK) / Netflix (US) from 19th February
Rosamund Pike takes the lead in this wicked thriller and dark comedy. 'I Care A Lot' follows Marla Grayson (Pike), a shady legal guardian who seizes the assets of elderly people for herself, after placing them into unnecessary care facilities. Things soon go from bad to worse when Marla gets mixed up with the wrong people.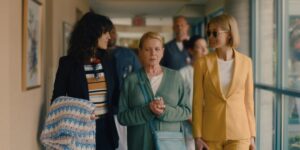 Written & Directed by J Blakeson, 'I Care A Lot', is a compelling watch with a structured narrative and well-written characters. The story is based on the unfortunate truth in the US, where vulnerable people are being taken advantage of, assigned with a legal guardian.
Rosamund Pike steals the show with her best performance since Gone Girl. Pike gives depth and truly embodies the character, it's like a masterclass for portraying pure villainy on-screen. A perfect accent, refined villainous traits, and an overall display of wickedness are what makes this performance so award-worthy. It's captivating to watch as Rosamund Pike gives the performance of her career in this toxic thriller.
The supporting cast includes Eiza Gonzales ('Baby Driver') who plays Grayson's partner, Fran. Peter Dinklage ('Game Of Thrones') brings a menacing presence, along with Chris Messina ('Birds Of Prey'). Dianne Wiest ('Hannah and Her Sisters') nails the portrayal of an unwilling woman who becomes under Marla Grayson's control and care. Wiest's performance enhances Pike's monstrous presence.
(In our opinion, the trailer may spoil this film, our advice is to avoid the trailer before watching)
The Costume, Hair & Make-up design is visually perfect, particularly Pike's chic haircut. Along with the production design, the often bright colour palette contrasts elegantly with the disturbingly dark narrative. Although the film is being considered a Comedy in Award categories, there isn't that much humour. Instead, it's primarily a twisted thriller. While opportunities to include more comedic moments may have been missed, it doesn't change this film from being a must-watch.
Blakeson delivers a unique tone with a mixture of drama, thriller, dark comedy and a slice of action. The narrative also comes to a clever conclusion that enhances the slick and sophisticated structure of this film. Interestingly, Pike's performance makes you route for her as a corrupt character, even when you really shouldn't. While the film focuses on a disturbingly cynical topic, 'I Care A Lot' is an irresistible film that is deliciously evil. 
★★★★
4 STARS
'I Care A Lot' is available to stream on Amazon Prime Video (UK) / Netflix (US) from 19th February.